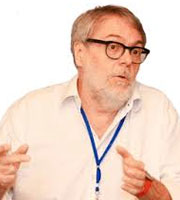 Module 01:
Date:        May 25, 2021
Time:        CET 9.00 am-11.00 am (GMT 7:00 am- 9:00 am) / IST 12.30 pm-2.30 pm
Speaker:  Professor Dr. Andrea Volterrani (University of Rome Tor Vergata, Italy)
Topic    :   Community development and communication
Language: English
The webinar will focus on the relationship between social development of communities and communication in the era of deep mediatization. (Hepp, 2020, Couldry and Hepp 2017). The theoretical approach and methodological perspective used will refer to urban media and practices and the mediated construction of social reality (Blockland, 2017; Couldry, 2004; 2012; Couldry and Hepp, 2017; Stephansen and Trerè, 2020).
Particular attention will be paid to the intertwining of communication processes and people's daily lives (Hepp 2015; 2020), with the aim of generating engagement and new forms of active citizen participation. Five types of communication will be presented in an educommunication perspective (Barbas, 2020; Freire, 1970), whereby citizens of communities become protagonists and co-constructors of relational, territorial and digital development processes.